UAB BENEVOLENT FUND GRANTS JLB DIAPER BANK $4,500
On May 31, 2018, the Junior League of Birmingham (JLB) was awarded a UAB Benevolent Fund Local Agency Grant in the amount of $4,500 for the JLB Diaper Bank. The JLB Diaper Bank provides new disposable diapers to families in need. Diapers are generously stored at the Community Food Bank of Central Alabama, a community partner agency of the JLB.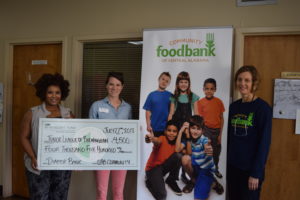 The UAB Benevolent Fund is an employee-supported and governed agency with the goal of transforming where we live, work, and play. The JLB Diaper Bank fit the organizational criteria for the grant program and was consistent with its mission of thoughtfully and purposefully changing the community for the better. Each year, approximately 15-20 Local Agency Grants are awarded by the UAB Benevolent Fund. The JLB Diaper Bank was selected because it provides services and education, meeting human care and social services needs in the community.
Applying for the UAB Benevolent Fund grant was not an easy feat. Katie Horn Smith, JLB Grants & Foundations Chair, completed the original application with assistance from 2017.2018 JLB President Katy Eldridge, Fund Development VP Alice Jackson, Community VP Karen Grahn, and Diaper Bank Chair Kaitlin Schaeffer. After passing the initial rounds of approval, Eldridge and Jackson prepared for the final 10-minute presentation before the 30-member UAB Benevolent Fund Board. Once the award was approved and awarded, 2018.2019 Community VP Susan Shields and Fund Development VP Lydia Hollett worked to coordinate a site visit and complete other mandatory follow-up actions.
In addition to this award, the JLB Diaper Bank received $11,445 in monetary donations and approximately 28,374 diaper donations during the 2017.2018 League year.
"We are so proud of the work our volunteers did to raise funds and garner donations of diapers through diaper drives, grant and donation solicitation," says Schaeffer. "We hope the JLB Diaper Bank will continue to grow and gain more attention in the community over the years to come."
"The need for diapers is a critical problem in the Greater Birmingham Area, says Jackson. "It not only physically affects infants and toddlers, but can also have a mental effect on their parents and caregivers."
The JLB Diaper Bank, along with 17 additional community projects focused on the health and well-being of women and children in the Birmingham area, aims to solve problems such as diaper need through the support of trained volunteers and funds raised. The JLB is grateful to the UAB Benevolent Fund's support of the JLB Diaper Bank and the League's efforts to improve the health of children in our area.
By Jessica Coates