Thank you for your interest in joining the Junior League of Birmingham!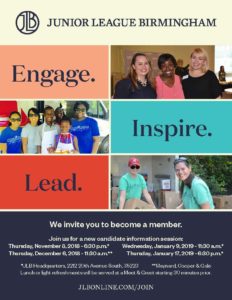 The Junior League of Birmingham has been promoting voluntarism, developing the potential of women, and improving the community since 1922.
If you would like more information, please join us for an upcoming Candidate Information Session:
Wednesday, November 6, 2019 – 6:00 p.m.
Tuesday, December 10, 2019 – 11:30 a.m. (*UAB Alumni House, 1301 10th Avenue South)
Wednesday, January 8, 2020 – 11:30 a.m. (*Botanical Gardens, 2612 Lane Park Road)
Friday, January 17, 2020 – 6:00 p.m.
*Unless noted all sessions will be held at:
JLB Headquarters
2212 20th Avenue South, 35223
Please note:  Lunch or light refreshments will be served starting 30 minutes prior to each session.
Applications
Applications for the 2020-2021 Provisional Class will go live on November 6, 2019, and are due on January 31, 2020. If you would like to receive information concerning dates, materials and deadlines for the 2020-2021 Provisional Class, please sign-up here.  Please find additional information in the JLB Admissions Frequently Asked Questions (FAQs).
If you have any questions, feel free to directly email Lucy Anderson, 2019-2020 Admissions Chair.
Membership Transfer
*Please contact Amber Ritchie, Membership and Administrative coordinator, concerning transferring your membership to the JLB.