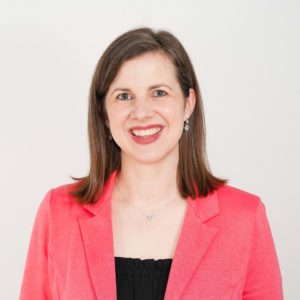 Dear Prospective Member,
Welcome to the Admissions page for the Junior League of Birmingham.  My name is Jenny Bell, and I am the 2021-2022 Admissions Chair.  We are thrilled that you are interested in learning more about membership in the JLB.  We are a diverse organization of women committed to voluntarism, developing the potential of women, and improving the community.  We look forward to meeting you and sharing with you why and how you can benefit from membership in the JLB as well as how you can use your involvement in the JLB to make a difference in our community!  This is an especially exciting year for the Junior League of Birmingham as we prepare to turn 100 in May 2022.  We hope you decide to participate during this special time for our organization.
Sincerely,
Jenny Bell
Potential Member Information
Frequently Asked Questions (FAQs)
Candidate Sponsorship Form – Available November 1, 2021
Membership Interest Meetings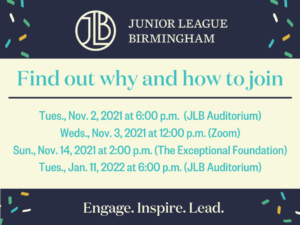 If you have any questions regarding the membership process, please email Jenny Bell, 2021-2022 Admissions Chair.
Membership Transfer
*Please contact Victoria Smith, Transfer Chair, concerning transferring your membership to the JLB.