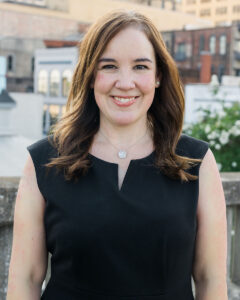 Charting the Course for JLB's Next 100 Years of Impact
Thank you for your interest in the Junior League of Birmingham (JLB)! As a lifelong Birmingham native passionate about serving and strengthening our community, I am honored to serve as the 102nd President of this incredible organization. For over 100 years, the JLB has been committed to fulfilling our mission to advance women's leadership for meaningful community impact through volunteer action, collaboration, and training, as well as our vision of Building Partnerships for a Better Birmingham.
Our nearly 2,000 JLB members are now jumping full force into our second century of service, committed to continuing to work collaboratively to make our community the best it can be. The women who comprise the JLB are filled with energy and excitement to engage in direct service to the community, to support transformational initiatives and explore opportunities to develop their own potential.
This year, we are embarking a host of new initiatives…from an exciting membership platform upgrade and a new mentorship program with Birmingham City Schools students to the implementation of our new five-year strategic plan and significant updates to JLB facilities. What's not new is our commitment to the Birmingham area and our dedication to our members. We are capable of so much more as a team than any one of us can do alone.
If there is a way the Junior League of Birmingham can be of service to you or to an organization or community you serve, please reach out to see how we might work together. To those already engaged with the JLB, thank you for your partnership. Thanks to all those who support the League currently and to those who will join in our endeavors in the future. We are grateful to have you join us as we chart the course for the JLB's next 100 years of impact!
Best,
June Mee Clark
2023-24 JLB President