Anti-Human Trafficking Initiative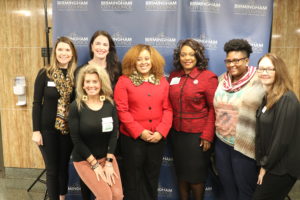 Junior League of Birmingham Awarded the 2021 AJLI Award for Public Policy & Advocacy


In 2017, the JLB created an anti-human trafficking initiative within the Safety & Crisis impact area to increase awareness in the Birmingham community through training, a public awareness campaign, and community events with other partners. Through this initiative we have reached thousands across the State to bring a greater understanding of this public crisis and to empower communities and organizations to action.

As the 2021 recipient of the AJLI Award for Public Policy & Advocacy, the JLB was honored to see our award-winning work showcased at the Association of Junior Leagues International's recent Centennial Summit. Our League was recognized for its work in the Birmingham community through the Anti-Human Trafficking initiative.
Anti-Human Trafficking Initiative Accomplishments:
34 area mayors have signed awareness proclamations which led to seven area municipalities declaring themselves as TraffickingFree Zones in 2020
Birmingham International Airport signage installation into every bathroom stall across the airport
Multiple awareness events and trainings reaching over 1200 people
Support of 2019's legislative efforts including HB 261 that now requires all commercial drivers to take a human trafficking awareness class in order to obtain a license.
How You Can Help End Human Trafficking: