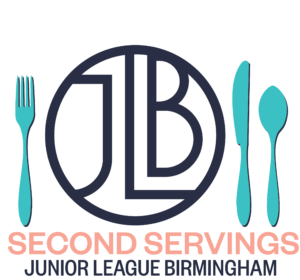 Second Servings is a new food rescue initiative developed by the Junior League of Birmingham (JLB) and designed to recover prepared food and deliver the food to those in need. This initiative aims to reduce food waste and serve those who are food insecure. The JLB will conduct this program in partnership with local area restaurants and caterers to rescue and deliver food to local non-profits. Currently, we have partnered with Project Hope, a day shelter for homeless teens, to provide food for its at risk youth, and we hope to expand to other locations, as the program expands.
Below are the required parameters that must be met in order for the JLB to recover any prepared food:
Must have been prepared in a commercial kitchen
Must be more than 15 servings
Must be with 10-15 mile radius of Birmingham
Must be prepared with 24 hours of recovery
Must be packaged in disposable containers and ready for pick-up
If you have food to provide, please do one of the following:
Fill out the questionnaire form here
Email us: secondservings@jlbonline.com
As a reminder, our Committee Members are volunteers. Anything we can do as a partnership to help facilitate pick up is helpful.
All donations are tax deductible and the JLB will provide you with a tax form.
Click here to read about the JLB Second Servings community refrigerator installed at Youth Towers in September 2018.