"Imagine having to choose between diapering or feeding your child."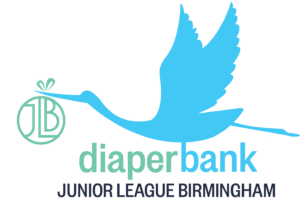 The JLB Diaper Bank distributes 100,000 diapers a month to 230 organizations through our partnership with the Community Food Bank of Central Alabama.

Diapers are essential to a baby's healthy development, but many babies don't have the clean diapers they need.
1 in 3 U.S. moms report suffering from diaper need
Government assistance programs like SNAP and WIC do not cover diapers
Diaper need impacts the physical, mental and economic well-being of children and parents
32% of children in Alabama under age three live in families with incomes below the federal poverty threshold
Most working parents rely on child care and most child care facilities require parents to provide diapers for their child – without childcare, parents can't attend work or school
The 5th Annual Diaper Drive will be held on Friday, September 25, 2020 during Diaper Need Awareness Week, at the JLB Building from 8 – 10 a.m.
The Diaper Drive is a drive-through event at 2212 20th Avenue, South in Birmingham. Donors do not have to get out of their cars; volunteers will remove the diapers from trunks or back seats. The event will help stock the JLB Diaper Bank, which distributes thousands of diapers each month to 230 vetted organizations. The JLB has partnered with the Community Food Bank of Central Alabama to store the diapers and vet the organizations that receive diapers through the JLB Diaper Bank.
The 2017 JLB Diaper Drive garnered approximately 28,374 donations. One in three U.S. mothers report suffering from diaper need, and this need is critical in and around the Greater Birmingham Area – physically affecting infants and toddlers and mentally affecting parents and caregivers.
Research shows 32 percent of children under the age of 3 live below the poverty line, while 26 percent of Alabama Women, Infants and Children (WIC) Funding recipients are infants. Roughly one-third of Alabama children are likely to benefit from diaper donations – which is on par with the national average.
You may also donate funds directly to the JLB Diaper Bank here. Monetary donations allow the League to purchase diapers in bulk, so we may help even more families in need.
Interested in hosting a diaper drive? Please contact diaperbank@jlbonline.com
Save
Save